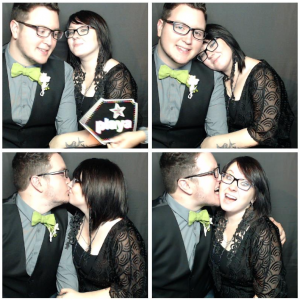 Picture a young man who, from an early age, was exposed to interesting cuisines, unique restaurants, fun dinner parties, exciting adventures in far off places (even an African safari). If you're imagining someone like Ernest Hemingway or Teddy Roosevelt, think again! I'm speaking of none other than our very own, Elf Michael.
Michael's passion for incredible food was firmly established through these early culinary adventures, arranged by his grandfather.
In college, Michael quickly realized his initial career choice, computer science, did not fit. He decided to change gears to attend Le Cordon Bleu College of Culinary Arts in Pasadena, California. He graduated in 2010, and in 2016 Michael and his wife, Mallory, put down roots in Austin.
The same year, Michael made the transition from restaurant line cook to the Dinner Elf team.  He recognized that Dinner Elf was the right place for him, thanks to the reward of working directly with customers as well as the low stress work environment created by our fearless founders, Nicole and Jesse.
"It feels good to give people good food, see them respond positively and make them happy," he says.
Michael's customers certainly feel his passion for food and feeding others.
"I've said this before, but I'll say it again: Michael is fabulous! He's a fantastic cook and has a great personality, and we all feel so comfortable with him,"  says Traci Giuliano, a long time Dinner Elf customer.
True to his upbringing, Michael frequently samples the local fare in our beautifully weird headquarter city of Austin. His current favorite gastronomic establishments include Old Thousand and Red Ash. Lucky for us, he bring all that culinary talent and exposure to new recipes he tests for the Dinner Elf menu!
When Michael is not exploring the local cuisine, cooking for his wife, or for Dinner Elf customers you will most likely find him at Alamo Drafthouse or Imax theater indulging in his favorite past time — movies.
"As soon as a new one comes out I'm there to see it," he says.
Check out what other customers are saying about Michael and our other Dinner Elves on our Yelp page.
This post is part of a Meet Your Elf series written by Haley Peck.  Haley is a valued member of our culinary team, a contributor to our blog and the author of her own food blog, Cooking With Haley. We hope you'll enjoy reading her profiles about the magical creatures we know as Dinner Elves!