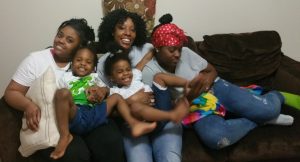 I am sitting in my car in the parking lot of HEB on a sunny day in Austin, Texas.  I look up into the big blue sky as I chat with Elf Nicole over the phone in the few overlapping minutes we found between our Dinner Elf appointments.
"My favorite part of cooking for Dinner Elf is when I get the feeling it's really helpful to the customers," Nicole says, and my ears pique. I know that feeling well. It seems to be a common bond we Dinner Elves share.
Nicole shares a story of an elderly customer who can no longer cook for herself and her grandson, who relies on Nicole's weekly visits to ensure they have healthy meals.  She says she likes to know she's being of real help to her customers, in addition to them really enjoying her cooking.
She tells me about her mother, who planted in Nicole at an early age both the  seed of being helpful to others and a love of cooking. "Back then, she would cook for us kids so we had a decent healthy meal. She's phenomenal when she gets down, she knows how to really cook." Nicole says.
Nicole graduated from her beloved Easy-Bake Oven and began cooking alongside her mother as a child, where she picked up invaluable skills which would later be reinforced in culinary school at the Art Institute of New York City.
"It's crazy, because the things she taught me… when I got to culinary school I already knew [so much]," she says.
After finishing up culinary school and completing stints at New York's Pershing Square Restaurant and Gottscheer Hall in Queens, Nicole and her husband decided to move to Austin with their twin four-year-olds in tow.  Her oldest daughter stayed in New York for college. Nicole quickly landed a coveted cooking position at The W Hotel here in Austin.
"Most of my real experience, in addition to school, was The W Hotel. It taught me a lot on both sides," Nicole says.
Nicole's culinary experience has made her a valuable addition to the Dinner Elf team and makes raving fans of her customers. In the words of one Dinner Elf customer:
"I'm in love! Amazing service for busy families. Nicole did an amazing job. Food was great, kitchen was spotless now I understand what my friend was raving about. Yay!"
Check out what other customers are saying about Nicole and our other Dinner Elves on our Yelp page.
This post is part of a Meet Your Elf series written by Haley Peck.  Haley is a valued member of our culinary team, a contributor to our blog and the author of her own food blog, Cooking With Haley. We hope you'll enjoy reading her profiles about the magical creatures we know as Dinner Elves!