I'll admit it: until last year, I didn't know how pumpkins went from pumpkin to pie. All pumpkin pies I have ever eaten have involved a jar of pie filling. I am happy to say, I am one step closer to attempting an unprocessed pumpkin pie thanks to this fabulous fall make-ahead breakfast treat from the Food Network Kitchen: Apple-pumpkin Brown Betty.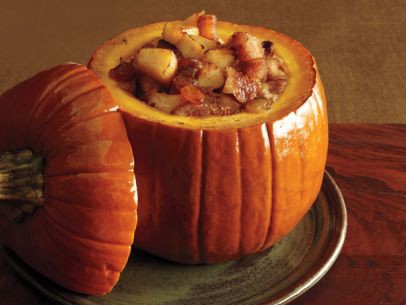 My big learning? There is a difference between a jack-0-lantern pumpkin and a pie pumpkin. Look for the small pumpkins labelled "pie" or "sugar" pumpkins, often displayed with squash in the produce section. These have the sweet flesh we associate with dessert. Chop off the top just like a jack-o-lantern, and recruit a little person in your house to pull all the "guts" out while you prep the apple filling.
Because I have an inherent need to mess with every recipe I come across, and because I wanted this to be healthy enough to serve up for breakfast, I made a few tweaks:
I used coconut oil as a healthy fat, in lieu of butter, to cook up the apples and bread filling.
For some extra protein and fewer simple carbs, I swapped french bread out for 2 chopped slices of sprouted grain Ezekiel bread.
I omitted the raisins because, well, we hate raisins with a passion in our house.
I upped the oven temp to 400 degrees and cooked the pumpkin for 1.5 hours, because it's still hot out and 2–2.5 hours is too long to wait on anything this tasty.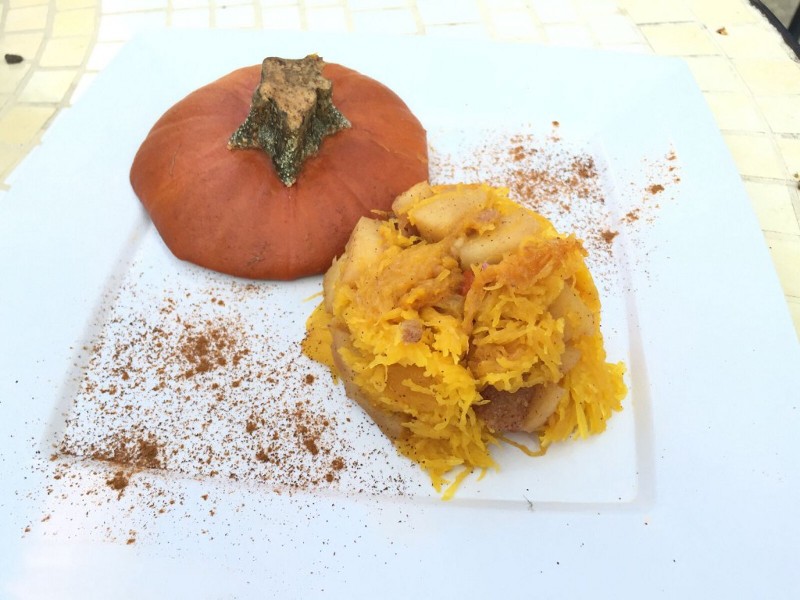 Tips from Dinner Elf:
For special-but-speedy weekday breakfasts, scoop the finished product into individual-size containers for an easy grab-and-go treat. Or use as a topping for oatmeal. With the above tweaks, it's a seasonally delicious way to get protein, veggies and fruit into the start of your little people's day. Add a drizzle of maple syrup to up the kid-friendly factor.
This recipe easily adapts to "company" quality dessert, as it is has fun and fancy presentation value in the pumpkin. Add homemade whipped cream or some vanilla ice cream.
Change this up to a savory side for your holiday table, using any basic stuffing recipe for filling instead of this sweet apple one.
Happy fall from Dinner Elf!
Nicole Vickey is co-founder of Dinner Elf, a company that helps busy families sit down to home-cooked dinners.