After a week of indulging in comfort food favorites and sleeping in, I knew my little people were going to fight the Monday school morning routine. Real food to the rescue! Thanks to my favorite food blog, we started our week with the delightfully crunchy No-Bake Peanut Butter Oatmeal Bars.
I'll be honest: feeding a family real food is hard. My biggest advice to families looking to eat less processed? Involve your kids in the food prep. Eating more real food means cooking more (unless you have a Dinner Elf!). More hands, even little ones, make a lighter load. These breakfast bars are the perfect recipe for little hands. No oven required, and lots of "smooshing":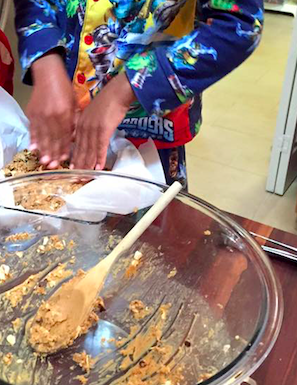 Thanks to the flax cereal, these bars have a wonderful crunchy texture. My son asked if they were "peanut butter rice crispy treats" and why we were allowed to have them for breakfast. Monday morning win!
Tips from Dinner Elf:
Make a double batch and freeze for future breakfasts-on-the-go or protein packed after school treats.
This recipe easily adapts to dessert with the addition of chocolate chips.
Happy eating from Dinner Elf!
Nicole Vickey is co-founder of Dinner Elf, a company that helps busy families sit down to home-cooked dinners.