What were your childhood summers like? Mine were seasons of less rules, no camps, and lots of low-frills fun. My parents were both teachers, so I always had a parent to party the summer away with. If I'm honest, being a working mom in the summer makes me more than a little grumpy. So, I'm looking for ways to make my limited time off into some serious summer magic. I'll share what I come up with in this series of summer hacks for busy moms.
Part 1:
Summer Wish Days
Every Wednesday for a month of summer, I try to take a half day and try some short-but-awesome adventures. Weekdays don't work? Make it Summer Fun Saturdays. Get it on your calendar. Make a fuss amongst your little people that this awesomeness is happening at whatever interval you can make it happen.
Some ideas for my fellow Austin mamas: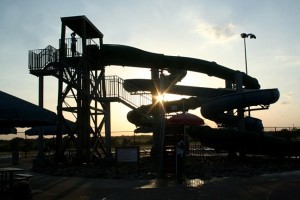 This mini-water park in Round Rock runs $5/kid. It has a lazy river, big water slides and a toddler-friendly water playground. I love that I can hang with my youngest in the zero entry pool and still lay eyes on my older and her friends on the big kid stuff. Consider it your $5 version of Lost Pines.
Kids Camp movie at Alamo Drafthouse

Why? Inside, air-conditioned, curated kid movies with reserved seats for a $1. Living large? Splurge on a bowl of $6 bottomless popcorn for all. Arrive early for the pre-shows, which I find as entertaining as the films.
Best of New Braunfels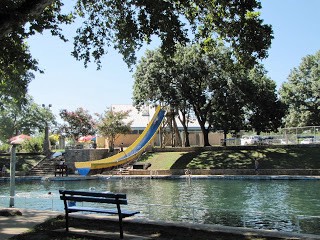 Start at Naegelin's Bakery for some serious drive-thru German pastries. Their cherry strudel straight up makes the world a happier place. Take your historically crafted sweets and head to Landa Park for a picnic by the wading pool. Fend off ducks who want part of your strudel. Ride that sugar high right onto the mini train. End at the Landa Park Aquatics Complex spring-fed pool, which has a fantastic two-story waterslide into ice cold water.
River Rope Swinging at Rio Vista Park in San Marcos: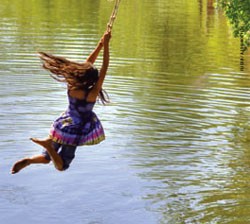 Pack a picnic, drive over, wear suits. Swing into the river over and over again until they are straight up worn out. Do you have strong swimmers and a sense of adventure? Bring tubes and check out the falls at the end of the park (note: closed now due to recent weather). Beware, though, this is real whitewater. Stop on the way home at Rhea's for some crazy flavored ice cream.
What's on your summer fun wish list? Please comment below so we can all ride each other's summer fun coattails.
Nicole Vickey is co-founder of Dinner Elf, a company that helps busy families sit down to home-cooked dinners.
This is part of her series on "hacks" for busy families to make limited time off into memorable summer fun.