Dinner Elf Shout Out In Today's Austin American-Statesman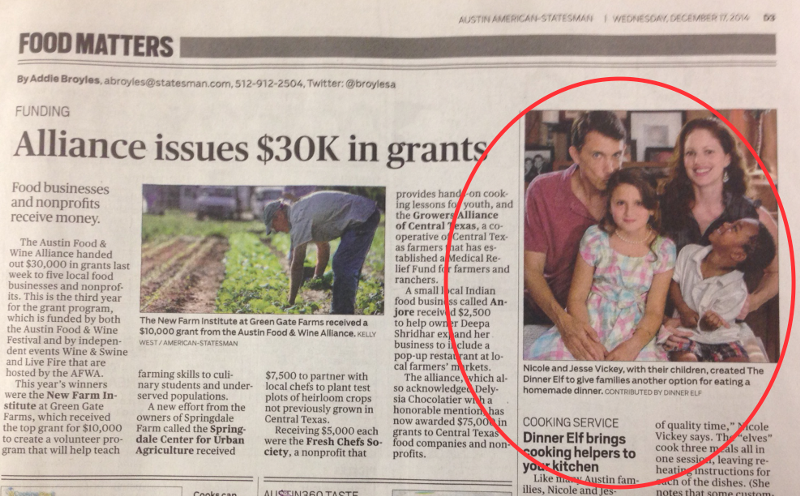 Yea for local press! Please see below or read in the Austin Statesman about Dinner Elf.
Dinner Elf cooking service brings helpers into your kitchen
by Addie Broyles
December 17, 2014
Like many Austin parents, Nicole and Jesse Vickey were having a hard time getting dinner on the table.
They have two kids and full-time jobs and were tired of the traditional options of take-out and delivery or even those new meal kits that proportion out ingredients but still require you to do the cooking.
They wanted something similar to a personal chef service, but one that was less expensive and more akin to a cleaning or nanny company. With these needs in mind, they created Dinner Elf, a cooking company whose "elves" who bring ingredients and prepare meals (not to mention clean up the mess) at the customers' houses.
"We're trying to give working families back that time they'd spend at the grocery store, cooking and cleaning so they have that extra bit of quality time," Nicole Vickey says. The "elves" cook three meals all in one session, leaving reheating instructions for each of the dishes. (She notes that some customers choose to be there while the "elves" are cooking, while others are happy to let them prepare the food while they are away from home.)
Vickey says they are always looking for cooks who are interested in using their skills to prepare meals for others, from culinary school graduates to "grandmothers who have cooked for their families for decades and want a flexible job."
Nicole Vickey is co-founder of Dinner Elf, a company that helps busy families sit down to home-cooked dinners.