Guess Who's Coming To Dinner?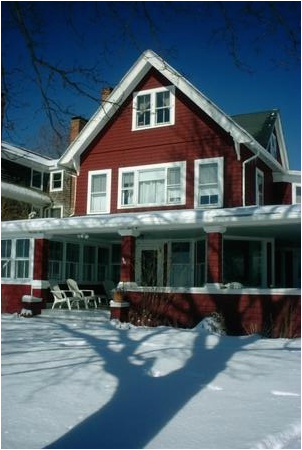 During my second year of grad school, someone posted an un-winterized waterfront house for rent on the cheap overlooking Long Island Sound.
Anyone who knows me knows that I love me some ocean. I love to swim in it, boogey board on it, just sit and watch it. So we packed up and grabbed the chance to spend what I imagined would be a season of salt-water and seaglass bliss. It really was a magical house, all angled ceilings, beadboard and clawfoot tubs. However, being un-winterized, ours was more of a season of firewood and polar-fleeced huddling for warmth.
The house has this enormous farmhouse table that seated something close to 18 people. It demanded dinner guests. This table was not having the lonely tableau of my husband and I hunched over our ramen noodles and laptops. It called out like a siren for centerpieces and multicourse meals.
It dawned on us that the house didn't feel so cold when people came over. Social distraction, or additional body heat, inspired us invite someone different to dinner once a week.
I would like be one of those women who flawless entertains on a regular basis. I am not even close. I did manage (thanks to Trader Joe's) to master one budget-friendly, multi-course menu befitting of that table. And, I made it every single week for new guests. My husband grew quite weary of pear galettes, but I had the whole dinner party prep thing down cold. Extremely cold.
Some of these dinner guests became good friends. Some came with broken hearts, in search of comfort and distraction. Others brought wine, and tales of travels and adventures that cheered us through the long winter.
One even became a firewood benefactor: a neighbor, after visiting from his oh-so-insulated house, had an entire cord of wood delivered to our driveway.
I look back on those dinners, and the warmth they brought into our lives, as inspiration to continue to invite new friends into our family dinners.
We have insulation now (yeah, we're fancy), plus the heated zeal of two children who get exceedingly excited at the prospect of dinner guests. Seriously: they make welcome cards, dress up fancy, create specialty drinks of unknown origins, and sometimes choreography dance routines. There is this feeling of outright celebration when we announce who's coming to dinner.
When I'm on top of things you get a proper dinner that would have made that beach house table proud. When I can't invite you past the mountain of laundry blocking my door, it might just be chili, nibbles and drinks while kids play in the yard. Whatever we can pull off, I treasure the chance to build community at my own table.
If you yearn for that too, but can't quite seem to get it done, consider letting Dinner Elf help. We've just added a whole set of appetizers to our regular menu, designed for a customer who asked for some easy-to-entertain-with game day snacks.
Tell us what you need to open up your family dinner — you never know who might need your warmth to cheer them through a long cold season.
Nicole Vickey is co-founder of Dinner Elf, a company that helps busy families sit down to home-cooked dinners.